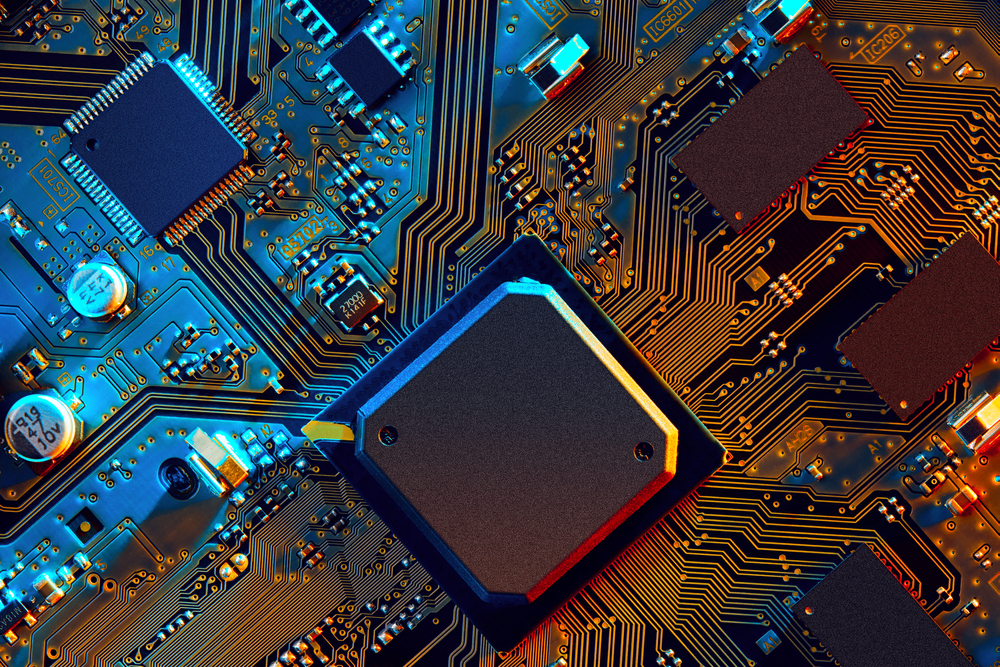 From VR gaming earbuds to wireless microphones, here's how Telink's TSLR9517 SoC gives wireless products a competitive edge.
Wireless connectivity is one of the leading development trends in the current audio product market. After all, the absence of wires removes limitations to provide a more convenient user experience. Today, most audio products we're familiar with use a wireless connection, such as Bluetooth®, 2.4GHz adapter, and WiFi. The first two are mainly used for wireless connection between audio and terminal products, such as mobile phones, computers, and VR devices, while WiFi facilitates data exchange with backend servers.
Wireless audio products on the market include Bluetooth headsets and speakers, TWS earbuds, wireless microphones, and more. Sales for these products continue to grow, reflecting consumers' recognition and demand for wireless connectivity. However, going wireless also brings challenges, such as loss of sound quality, latency, and vulnerability to interference. As such, better solutions are needed to compensate for these shortcomings and improve the user experience.
Telink Semiconductor, committed to developing high-performance and low-power wireless IoT SoCs, recently launched the TLSR9517 multi-standard wireless audio SoC in response to market demand. Telink's TLSR9517 combines the features and functions required for high-quality wireless audio devices into a single SoC, providing ideal audio solutions for products such as wireless earphones, earbuds, wearable devices, and more.
Telink Semiconductor's TLSR9517 Multi-Standard Wireless Audio SoC Solution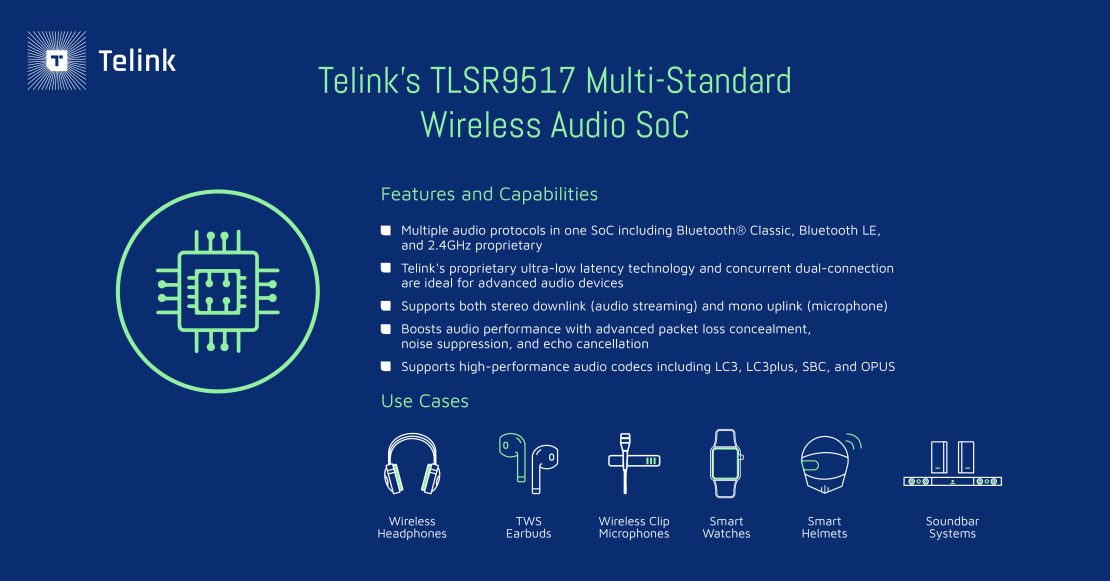 Telink's TLSR9517 is a multi-standard wireless audio SoC that combines the features and functions required for high-quality wireless audio devices while supporting industry alliance specifications and standards, including Bluetooth 5.3, Basic Data Rate (BR), Enhanced Data Rate (EDR), Bluetooth LE Audio, and proprietary protocols. It also has high integration and ultra-low power consumption application capabilities.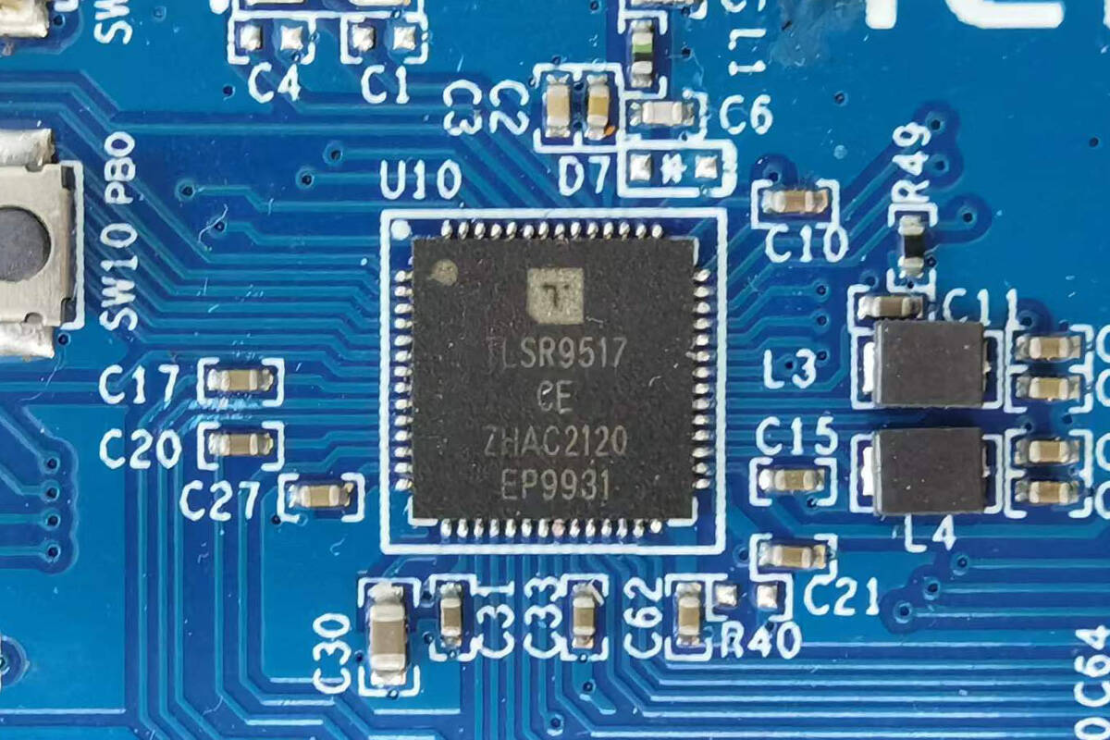 TLSR9517 integrates a powerful 32-bit RISC-V MCU, DSP, 2.4GHz ISM radio, 256KB SRAM, 1MB flash memory, stereo audio codec, AUX ADC, analog and digital microphone input, PWM, flexible IO interface, and other peripheral modules required for advanced audio applications. Telink's TLSR9517 also includes a multi-level power management design that facilitates ultra-low power operation, making it ideal for wearables and power-constrained applications.
Furthermore, Telink's TLSR9517 supports concurrent multi-standard solutions. In certain use cases, SoCs can run two standards simultaneously. For example, Bluetooth LE and Bluetooth Classic can run simultaneously with two application states and dual radio communication channels to accommodate different functions. TLSR9517's minimal need for external components also allows it to meet customers' ultra-low cost requirements, providing a competitive market advantage.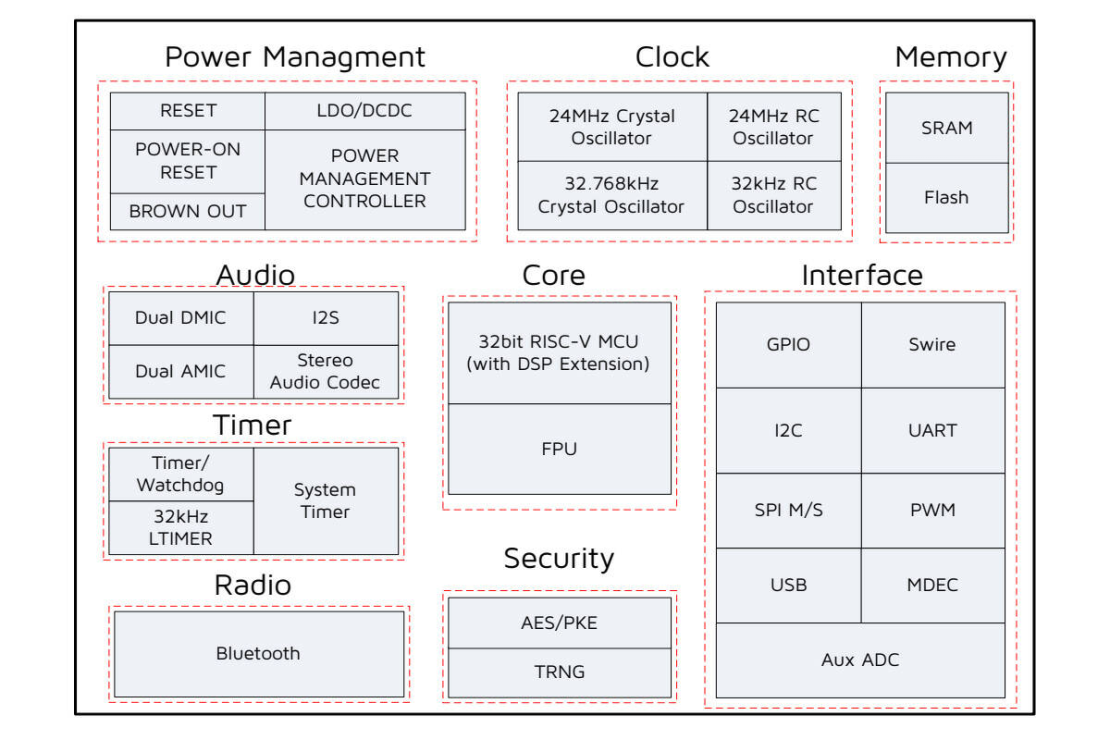 Telink's TLSR9517 SoC integrates a high-performance stereo audio codec with a signal-to-noise ratio of over 96dB and a sampling rate of up to 192kHz inside wireless audio applications. It has a 24-bit ADC/DAC for the codec and is compatible with SBC, OPUS, and LC3 audio codecs. It also supports voice codec, Apple iAP2, EDR and Bluetooth LE dual-mode operation, noise suppression, echo cancellation, packet loss concealment (PLC) for voice processing, and more. TLSR9517 is based on Telink's patented technology and also allows synchronous playback of true wireless stereo and 1+N audio devices with power balance across all devices.
Case Study: Telink's TLSR9517 Multi-Standard SoC Solution in Wireless Audio Products
52 Audio has found that the Saramonic Blink500 ProX B2 wireless microphone and Soundcore VR P10 true wireless VR earbuds are equipped with Telink's TLSR9517 multi-standard wireless audio SoC. Both products have been mass-produced and launched.
Saramonic Blink500 ProX B2 Wireless Microphone
Saramonic Blink500 ProX B2 is a mini dual-channel wireless lavalier microphone designed with an OLED high-definition display screen, making it easy for users to obtain status information. The charger's innovative design offers convenient storage while directly powering the transmitter and receiver, thus providing sufficient energy for continuous content creation.
In terms of functional configuration, the Saramonic Blink500 ProX B2 wireless microphone uses 2.4GHz ISM adaptive frequency hopping communication transmission technology, which has strong anti-interference capabilities and delivers a low latency transmission of 8ms, THD+N < 0.05@FS, while the certified 2.4G frequency band is globally available for recording anytime, anywhere. This digital signal transmission technology, combined with the built-in high-quality omnidirectional microphone, provides a 48KHz sampling rate and clear, full recording sound quality.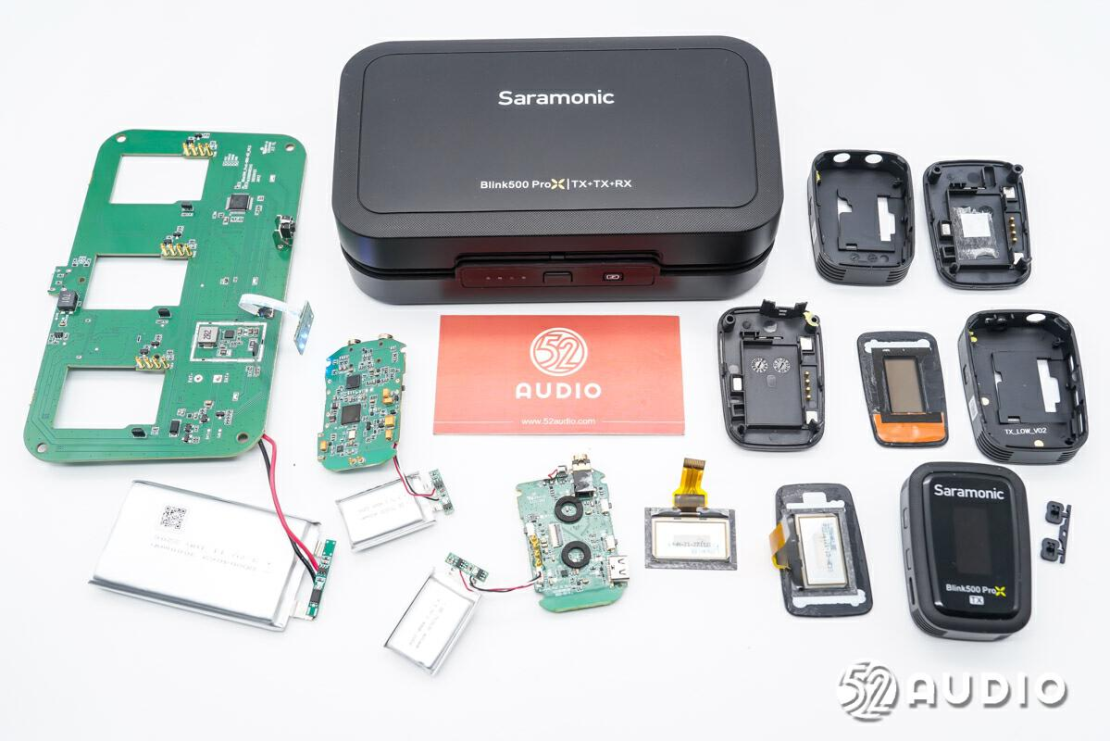 Saramonic Blink500 ProX B2's wireless connection solution adopts a combination of Telink's TLSR9517B and TLSR9517C wireless audio SoCs, which provides ultra-low latency, high fidelity, and high anti-interference wireless audio transmission for the microphone.
Soundcore VR P10 True Wireless VR Earphones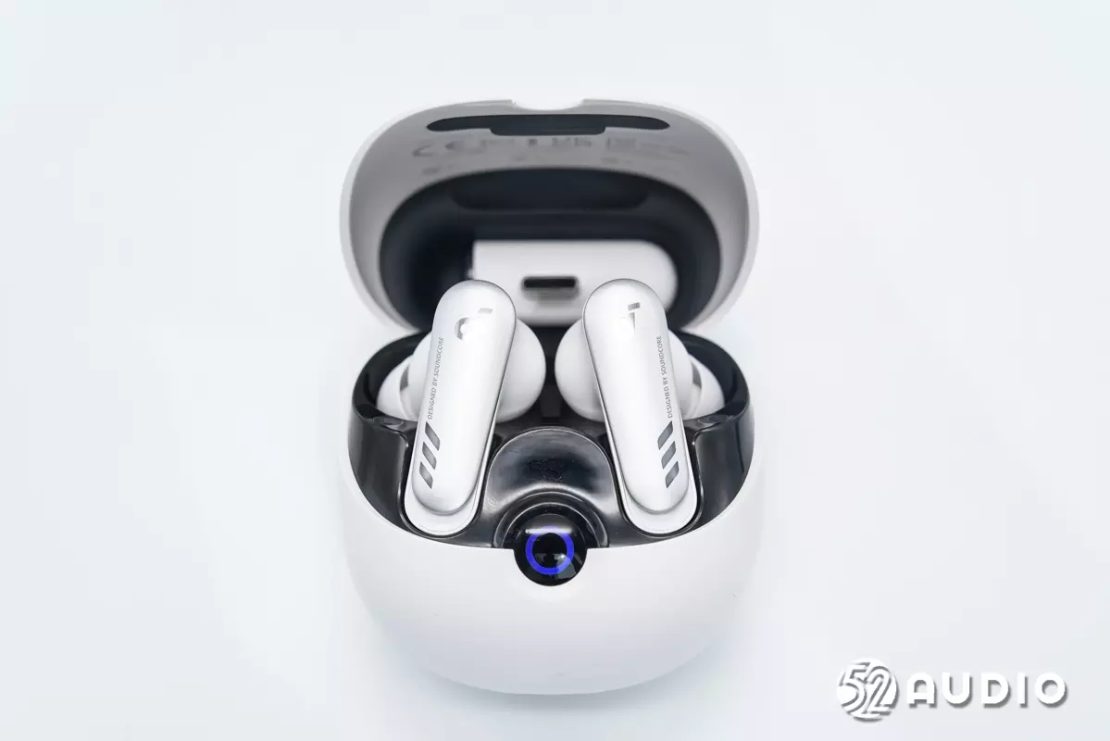 Soundcore VR P10 is the first true wireless earbuds product under Soundcore specifically designed for VR headsets. Paired with colorful indicators, it offers the look and feel of futuristic technology. Soundcore VR P10 has an adaptor in the compact charger, which is designed to match the small, portable characteristics of TWS earbuds.
Regarding functionality, the Meta-certified Soundcore VR P10 supports 2.4GHz and Bluetooth dual-mode wireless connections, providing an ultra-low latency of 30ms to achieve seamless VR gaming. Its dual-mode capabilities allow an adapter to be connected to a VR headset for gaming while Bluetooth connects to a mobile phone, so that the user can receive calls without interrupting the game. Soundcore VR P10 can also remember up to four adapters to achieve seamless transfer between different devices. Lastly, it supports BassUp technology and the LC3 codec to provide high-quality wireless audio transmission.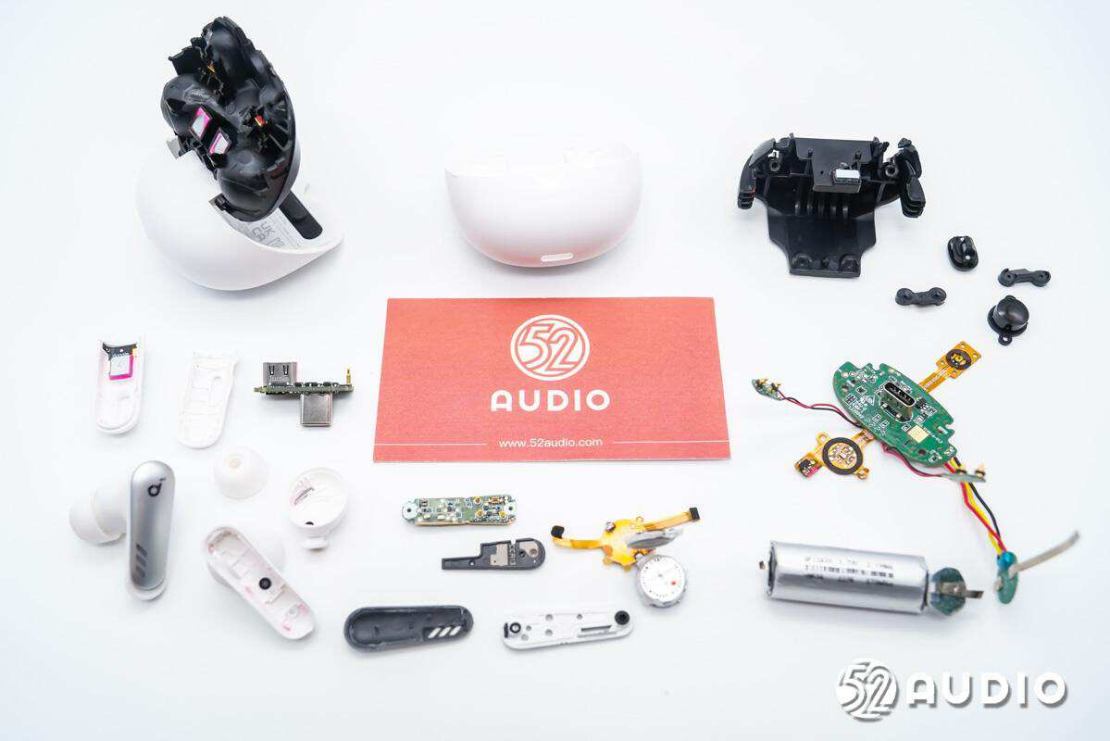 The Soundcore VR P10 true wireless VR earphones come with a custom chipset that adopts Telink's TLSR9517B and TLSR9516A wireless connection solution, allowing it to achieve ultra-low latency wireless transmission of less than 30ms while supporting Bluetooth 5.2. As such, it can be connected to handheld devices through Bluetooth, just like regular TWS headphones. Paired with integrated high-quality wireless audio, it is able to create a more immersive VR gaming experience.
52Audio Summary
Audio products are among the most used electronic consumer products in our daily lives. Their presence can be seen everywhere, from daily work commutes to home entertainment systems. The rapid development of wireless audio technology has enabled wireless audio products to offer a more convenient user experience, and with the rapid growth of product sales, more and more brands are entering this market.
The increase in market demand has driven the development of related industrial chains. As a manufacturer dedicated to providing customers with one-stop solutions, Telink Semiconductor has timely launched the TLSR9517 multi-standard wireless audio SoC solution. Based on the technological advancements in low-power, high-performance wireless connection SoCs, Telink's TLSR9517 helps its customers create high-performing wireless audio products, thereby increasing product competitiveness and tapping into unexplored market space.

Note: This article was originally published on 52Audio. Visit Telink's wiki to learn more about our development tools, or ask us a question through our Technical Forum or by contacting us directly today.