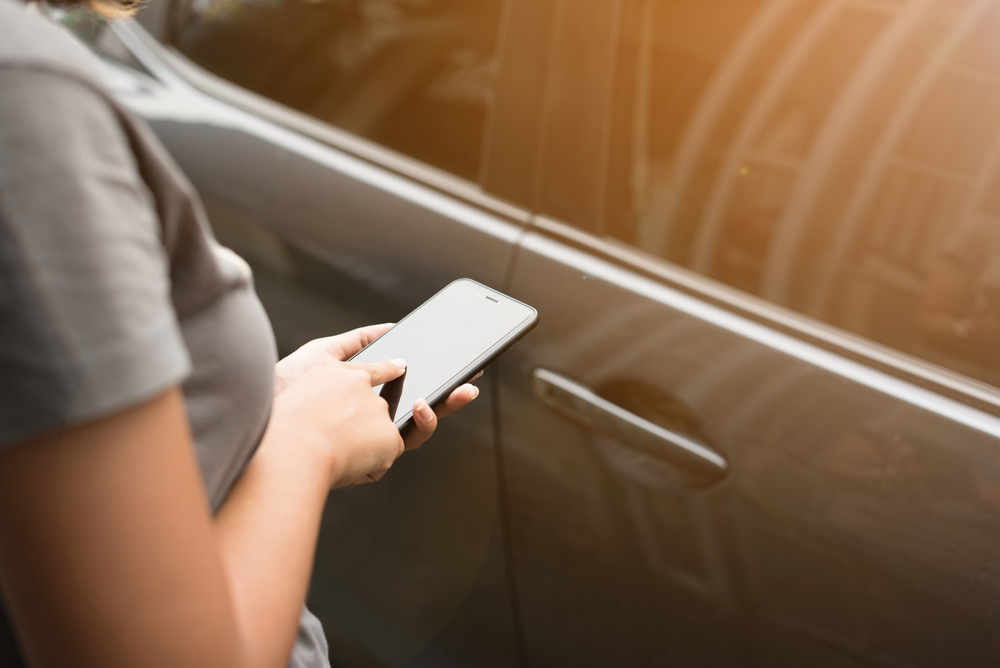 Apple and Google are teaming up to create a universal specification that will not only prevent unwanted tracking but strengthen the security of location services on all devices.
In today's fast-paced world, it's easy to get lost in our busy schedules and forget where we place essential items like our wallet, keys, and phone. Fortunately, personal item tracking offers a convenient and accessible way to find valuable items quickly and easily. By leveraging a network of mobile devices, applications like Apple's Find My network or Google's Find My Device platform can report the location of any tracked item, even if it's left at a remote place.
However, with this perk comes the possibility of undetected or malicious tracking. Although tech giants like Apple and Google already have corresponding measures in place to curb unwanted tracking, an industry-wide specification is in the works to provide baseline guidance for device developers. Here's what this means for the tech industry moving forward.
How Personal Item Tracking Works
Personal item tracking generally leverages Bluetooth® crowd-sourcing to help users find valuable belongings that have been accidentally left behind. Bluetooth crowd-sourcing relies on Bluetooth wireless technology already present in smartphones and other electronic devices to detect the user's device with tracking capability. Information received from the device via Bluetooth is relayed to applications like Apple's Find My network and Google's Find My Device platform for long-distance remote monitoring.
Apple's Find My network harnesses a crowd-sourced hub of Apple devices that use Bluetooth wireless technology to detect missing devices or items nearby and report their approximate location back to the owner. Google's Find My Device operates similarly, collecting location data from devices to help users find their lost Android devices. Both services are anonymous and encrypted, keeping your personal data confidential and safeguarding access to your device.
The Conveniences and Concerns of Personal Item Tracking
Personal item tracking powered by Bluetooth crowd-sourcing ensures users can find valuable items that have been lost or stolen, which can be a lifesaver in stressful situations and provide peace of mind.
Yet there is a potential misuse of personal item tracking that one should be aware of — unwanted tracking. Unwanted tracking involves the illegal use of tracking devices to monitor the activities of others. Individual device network platforms have recognized this issue and introduced unknown tracker alerts that will notify victims when a tracking device is unexpectedly with them. However, a broader, industry-wide specification is necessary to provide baseline guidance for device developers to help curb this behavior.
Detecting Unwanted Tracking with a Universal Specification
To address such concerns surrounding personal item tracking, Apple and Google have initiated a collaborative effort with other industry leaders to develop a universal specification. The specification aims to provide guidelines surrounding location tracking devices by focusing on unwanted tracking detection.
While not set in stone, the proposed specification includes several important suggestions, including:
Unified protocol standards: The proposal presents Bluetooth® LE as the recommended primary transport protocol because of its widespread use.
Added location states: It's recommended that accessories maintain a second internal state that denotes whether or not they are near the owner. If the accessory has moved away from the owner, the state should change to a "separated mode" to alert the user.
Time-restricted access: All broadcasted data should only be transmitted to a nearby accessory or an accessory that has been near its owner within the past 24 hours so that data is not accidentally sent to a device that has been lost or stolen.
Constant address rotation: Connected devices should regularly rotate all 6-byte Bluetooth LE MAC addresses to help mitigate hacking and the impact of sensitive data leaks.
Non-owner finding: In the instance that an unwanted tracker has been detected, the user should be able to exactly locate the tracker for further investigation and resolution.
Mandatory hardware components: All devices with location tracking capabilities should be required to have a motion detector, sound maker, and non-owner controls, at the very least, for uniform tracking and detection features.
The specification is currently in its Internet-Draft phase, and interested stakeholders are welcome to read it and provide input until early November 2023. After that, Apple and Google will review all feedback and fine-tune the proposal so that the specification can eventually be implemented worldwide, which may pave the way for stronger growth of personal item tracking devices in the near future.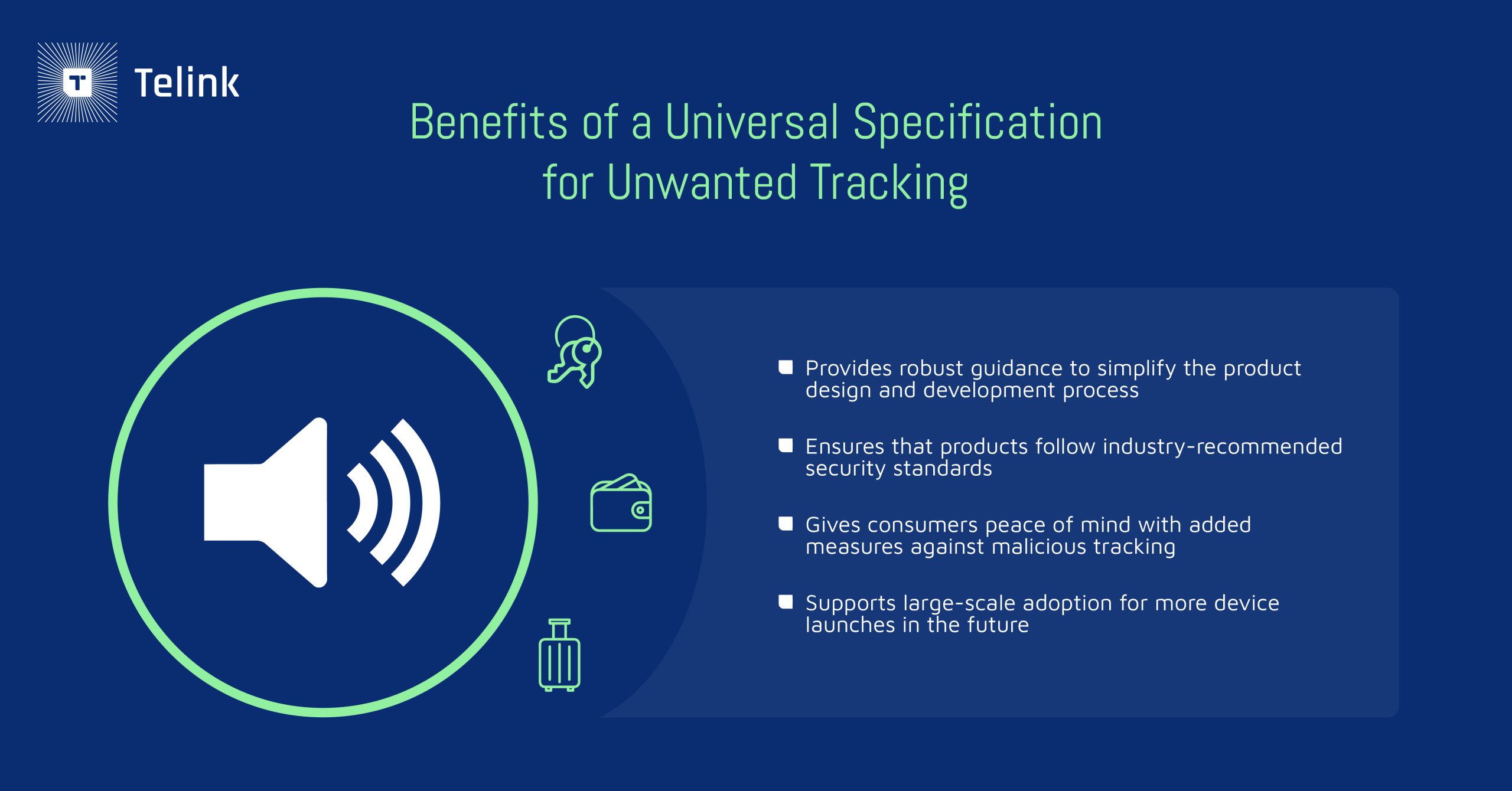 Stay Updated on Security Specifications with Telink
At Telink, we provide a solution to support the development of personal item tracking devices based on Apple Find My network and other major device network platforms. Although Apple and Google's specification for detecting unwanted tracking is still in progress, Telink is ready to align with the final guidelines to help preserve safety and confidence among tech consumers around the world. In the meantime, Telink is committed to developing SoC solutions that meet the ever-evolving security standards of today, tomorrow, and the years to come.
Please visit our wiki to learn more about our products and solutions, or ask us a question through our Technical Forum or by contacting us directly today.